The security benefits of having a solid swing gate are many and different. However, if it is not in good condition and/or does not work properly, you will certainly not enjoy the expected level of security. For this reason, regular inspection and timely gate repair are required. Use some helpful information and advice to spot the most common issues and fix them timely.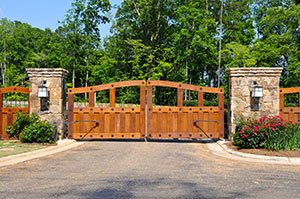 Issues with the Fixed Parts and Opener
Even though the posts seem solid, they may actually not be in good condition. Wood posts are prone to rotting. Stucco is also prone to weather damage and can get cracks and chips. Even if the posts are made from rock solid stone, they may not be stable because they are not deep enough in the ground. If you identify even the slightest issue during inspection, you should provide swing gate post repair right away.
The issues with swing gate hinges are fairly common as well. You should inspect them for loosening and for rust. Tightening and cleaning are required on a regular basis. The same applies to lubrication as well. You need to use a lubricant recommended by the gate's manufacturer. If the problem is not solved with basic maintenance and troubleshooting, the hinges have to be replaced.
It is easy to recognize when the swing gate operator is malfunctioning. The gate is not opening or closing properly. You hear strange sounds. The gate may reverse its direction all of a sudden. In this case, you must check all the parts of the opener system. The metal ones must be in good condition and stay fixed in their places. They shouldn't be loose or rusty.
You need to pay special attention to the motor. It should be clean from debris. It must not produce any loud noises or weird sounds when working. If you cannot identify the issue or do not know how to fix it, you can get professional help from gate repair Alhambra. In general, timely repairs will extend the useful life of the unit and help you save on gate motor replacement.